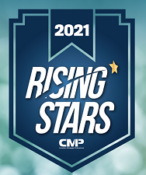 Monday, 26 July 2021
By Mortgage Outlet
https://www.mpamag.com/ca/best-in-mortgage/rankings/rising-stars-2021/288849
THE LEADERS OF TOMORROW
CMP spotlights 63 up-and-coming young professionals who are making waves in the Canadian mortgage industry.
Starting out in the mortgage industry can be daunting for young professionals at the best of times. While potentially hugely rewarding, the industry can also be intense and demanding, with an often-heavy work-load and a plethora of complex concepts to grasp within a short period of time. Those finding their feet in the industry right now have also had to overcome the hurdle of COVID-19, which has upended the conventional workplace and introduced a host of new difficulties into the mortgage space.
We're so proud that Mortgage Outlet had two of our top agents named in the CMP Rising Star List, congratulations to Michelle Farrugia and Shabnam Gill.