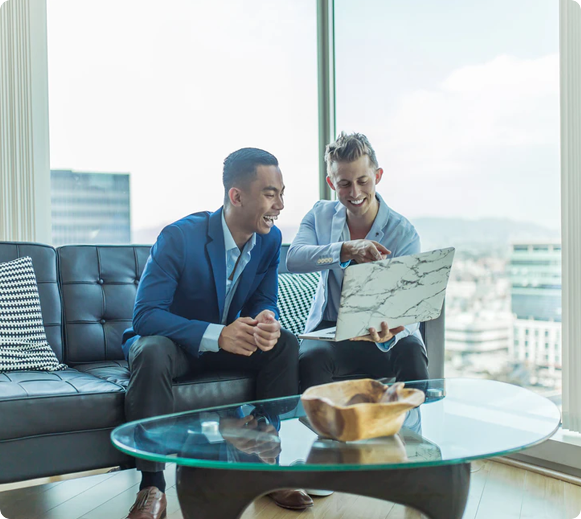 Careers
If you are a hard working, highly motivated, self-disciplined individual looking to work in an environment with caring leadership, one of the industry's best commission structure and commission programs, top tier mortgage rates from Canada's leading mortgage lenders and banks, along with many other perks, then Mortgage Outlet would like to hear from you.
Top 14 Reasons to Join Mortgage Outlet
Selecting a brokerage is an important decision. Thank you for considering Mortgage Outlet.
– Background – Being a mortgage agent/broker is a commission-based role
– You must be licensed to conduct business as a mortgage agent/broker
– Visit Remic.ca for more information on the mortgage course and writing your exam
Please read the IMPORTANT information below carefully to learn more about us and our work style
1. We're one of the Top 75 Mortgage Brokerages in Canada – and have won many industry awards
Winner (several categories) – Mortgage Awards of Excellence
Winner (several categories) – Canadian Mortgage Awards
Winner – Top Workplace
Winner – Top Independent Brokerage
✔ We are often quoted in the media (eg. Globe and Mail, CTV News, CP24, CBC) and are even paid by real
estate boards to present (eg. Oakville, Durham, Toronto Regional Real Estate Boards)
✔ Our management team are leaders at regulators and industry associations (FSRA, CMBA & MPC)
✔ As a top brokerage, we have access to better rates and commissions than that of other brokerages
✔ It also means we have access to lenders that others may not – and this is becoming a critical competitive advantage, given the regulations (eg. Credit unions, luxury property lenders, private, commercial, etc.)
✔ We have excellent Google and Facebook reviews, which further helps you build your conversion
✔ Our reputation means you have immediate credibility with your clients
2. GROWTH – We are focused on helping you grow YOUR business
✔ We have a Underwriting & Fulfillment Hub to process your files, so that you can market and sell – which is a much better use of your time
✔ We want you to grow – whether it is from $5 million to $20MM, or from $20MM to $100MM
✔ You can leverage our business planning process, sales training, marketing and social media support, etc
3. TRAINING! We have a proprietary, FIVE-pronged approach to TRAINING
✔ A customized welcome package with LOTS of information to read and videos to watch – this will help you to gain more and more knowledge, including completing a mortgage application, mortgage documents required, rates, sales training and more
✔ Weekly lender meetings (recorded via Zoom) to learn about new mortgage products
✔ Weekly sales training / business planning /marketing with our co-founder
✔ Three weekly underwriting meetings via Zoom to train you on this important aspect of brokering
✔ Most important – we help you with each and every file. Which lender is best for my client? Which documents do we need? How much is the compensation? We act like personal trainers and work with you closely for every client that you have. This also includes business planning to help you succeed.
4. We don't nickel-and-dime our agents with fees
✔ No marketing fees or franchise fees
✔ No monthly fees or desk fees – see details below
✔ No fees to leave and we don't force you to sign a long-term contract
✔ No ongoing repetitive costs (Just pay FSRA and E&O insurance)
5. ACTIVE broker owners – Our brokers and team leaders are not "semi-retired"
✔ We've heard from our new recruits that they could never get a hold of their broker, because their broker was always golfing or on vacation, etc.
✔ Speed matters – and we're available when you need us – evenings and weekends included
✔ Don't lose your clients or referral sources when they become impatient with a slow response
✔ The two founders, Shawn & Elan, are high school friends – speaking to our culture of loyalty and long-term relationships
6. Because of our volume, we have dedicated lender underwriters, top-tier status and access to MANY lenders
✔ Often, we receive a purchase agreement from the Realtor and because the file was already
pre-approved and underwritten by us, we simply enter the purchase details and submit – and
frequently, we receive a commitment by the next MORNING! This really "WOWs" Realtors and clients, helping you to get more referrals
✔ We have lenders that many others do not have – helping you to get more approvals and win clients
✔ We have dedicated lender underwriters directly assigned to Mortgage Outlet – for faster service
7. We are licensed in BC, AB, NB, NS, ON, QC and can lend across Canada – plus MANY lenders
✔ Because of our size, we can lend and fund files
✔ We work with big banks (eg. Scotia, TD), credit unions (eg. Duca, Meridian, First Ontario), insurance companies (Manulife, Desjardin), B-lenders (Home Trust, Equitable), plus private lenders (who pay you commission) and commercial/construction lenders
✔ Our range of lenders can help you generate more business – and because of our volume, the
compensation and service from our lenders is top tier
8. We don't "hide" commissions from you
✔ Lenders provide a finder's fee and "volume rebate" (VR), PLUS other "bonus commissions"
✔ Some brokerages don't tell their agents about these VR's
✔ We DO give these to you as part of your commission split!
9. We can help to fund any file
✔ Residential, commercial, land, construction, damaged credit, new-to-Canada, private lending, second and third mortgages, borrowed down payments, luxury properties, fast closings & more!
✔ This will help you earn more money!
10. We have a stellar reputation in the industry
✔ We are outstanding underwriters – our lenders reward us with fast turnaround times & ratio exceptions
✔ Similar to a doctor, architect, and accountant – we are professionals and take our craft seriously
✔ We are mortgage professionals and our leaders are ACTIVE in the industry – meaning we have extensive
experience with clients, lenders, policies, exceptions. We LOVE what we do!
11. We have a program suitable for DEDICATED part-time and new mortgage agents
✔ This includes access to brokers/underwriters in the evening
✔ Training is on Zoom and is also recorded
✔ Our co-founders started as part-timers and WORKED HARD to go to full-time
12. We give you the freedom to run your business as you desire, but we also provide the support you want
✔ Of course, everything needs to be legal, ethical and proper
13. We offer a CRM program (designed specifically for brokers)
✔ Automatically send your clients a happy birthday message, and a mortgage anniversary message so that they always remember you
✔ CRM reminds you of upcoming mortgage renewals
✔ CRM includes monthly newsletters to help you stay connected with your clients
✔ CRM updates Realtors and lawyers to "wow" them and grow them into referral partners (eg. updating the Realtor that the appraisal was booked, etc)
14. We want to grow with you
✔ If you are currently a bank specialist – how do you transition to mortgage brokering?
✔ Should you incorporate? (Our co-founder, Shawn, is a CA/CPA and he loves to help people reduce taxes!)
✔ Our goal is to help you become empowered to learn, grow, help people, have fun & make money
OTHER INFORMATION
Commission Split (For new agents):
-50/50 for the first 10 files;   65/35 for the next 10 files;  80/20 afterwards
-After you complete 20 files, you are expected to be independent, but you can continue to attending training for free
-After your 20th file, our underwriting/fulfillment team would be $400+400 per file
-No monthly payments and no minimums in your first year – and no monthly payments afterwards if you fund at least 2 files per year, otherwise a $60 monthly license inactive fee applies.
Costs to join:
-FSRA (The regulator) is approx $1000 per year, prorated to March 31
-E&O insurance is approximately $500 per year, prorated to June 30
-Sign-up fee of $250 for the enrollment process (email accounts, website updates, etc)
-Credit bureaus & Purviews are approx $9 each, (this is our cost).  You only pay for this when you use them.
Marketing and finding clients:
-We do not provide leads as we have found that new agents do not follow up and the lead becomes cold
-We do not recommend marketing as it usually wastes a lot of your money
-We recommend business planning, networking & using your strengths to find clients and support you in this approach
-We recommend for you to use our existing marketing materials – customize them with your name
-This includes social media, open house sheets, presentations for Realtors and first-time buyers, and more!
Questions? Ready to Join? Email us a resume, your ID and proof of exam at: [email protected]